Dyreparken Hotell
Address
: 4609 Kardemomme By (
show map
)
Location: Kristiansand
Hotel | Dyreparken Hotell is a family hotel, near the entrance to Kristiansand zoo. Located 15 minutes east of Kristiansand city center and 10 minutes from the airport. Designed after the theme "Noah's Ark".
Full beskrivelse The hotel has 160 rooms, including 51 double rooms, 107 rooms with 4 beds and 2 junior suites. Rooms are on 4 floors and each floor has a theme. Jungle, Savannah and the Nordic wilderness. All rooms have animal names, such as The Jackal Cave, Giraffe Hill, Elephant Closet, Mouse Hole, and the like.

All rooms at the hotel have a kettle, refrigerator and a private bathroom with shower. Some rooms have balconies. In every room hangs a watercolor of various animals, which are painted and signed by the zoo's founder, Edward Moseid.
Dyreparken Hotell is a family hotel in a class by itself. The hotel is fully adapted for Children. The rooms and common areas are characterized by motifs from the animal kingdom, making the accommodation an unforgettable family experience. There is also a large children's playroom of 150 sqm.

Features: 6 handicap rooms, lift, a private pier with an outdoor restaurant and a private sundeck, Non Smoking Rooms, Allergy-Free Rooms, All Public and Private spaces non-smoking, Designated Smoking Area.

In the area: the Zoo and Water Park are adjacent. 15 minutes east of Kristiansand city center and 10 min. from Kjevik Airport. Sørlandssenteret and Ikea is about. 5 minutes away by car.

Parking: The hotel has parking and parking here is free.

Check-In: from 15:00

Check-Out: 11:00

Wireless Internet: Yes – throughout the hotel. Free.

Pets: allowed on request.
Comment: costs 100 nok per night.

Optional: 1 child under 3 years of age may stay for free in existing beds in the room. To book this or to book a cot - contact the hotel directly.
Compare "Dyreparken Hotell" with similar alternatives
Hamresanden Ferieleiligheter offers apartments for rent at Hamresanden in Kristiansand. 200-300 meters to Hamresanden, a 3, 5 kilometer beautiful, long sandy beach that is great for families with children who are on summer vacation in southern Norway.
Ansgar Summer Hotel is a unique gem with a fantastic location right by the sea midway between Dyreparken (the zoo) and Kristiansand. About 5 minutes from the zoo by car.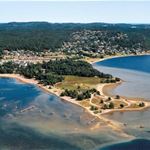 Hamresanden – Norway's answer to the Mediterranean. With a 3.5 km long sandy beach, archipelago, a short drive to the zoo, shopping centers, culture and Kristiansand - Hamresanden one good choice.